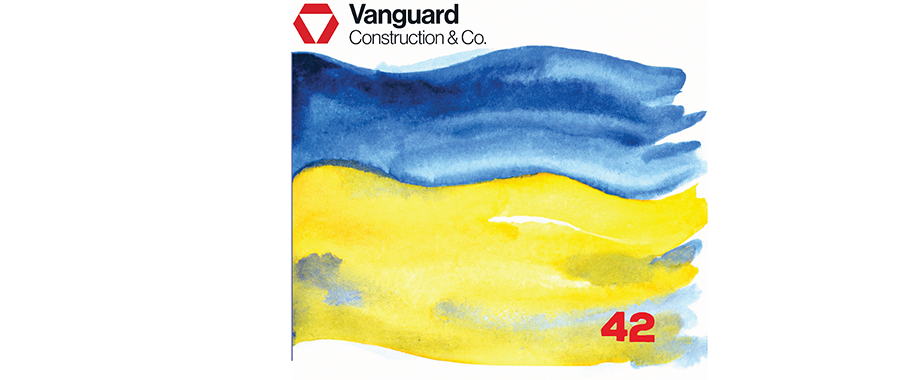 Happy Holidays from Vanguard Construction & Co.
Vanguard Construction & Co. wishes all our Families, Friends, and Colleagues a joyous holiday season and a Happy New Year. It is our hope this forthcoming year will allow more of us to live in safety, freedom, and the embrace of inclusion. We are inspired by the people of Ukraine in defending themselves from invasion. Their courage reminds us that peace and security should never be taken for granted.
In this spirit of liberty, Vanguard announces a contribution on your behalf to the Pavers Foundation, which channels medical supplies and aid directly to the Ukrainian people.
In addition, it has been 75 years since Jackie Robinson broke the color barrier to play in our national pastime of baseball. He led the vanguard of his generation fighting hatred and bigotry. Jackie Robinson's grace in the face of prejudice reminds us how far we have come and still need to go in confronting and resisting discrimination and intolerance. As all baseball players on April 15th each year wear the No. 42 in recognition of Jackie Robinson's achievement, we wish to remind everyone to accept and treat one another as equals, with respect and dignity.
Lastly, Vanguard has also donated essential Care Packages to The Bowery Mission, which helps protect and shelter New York City's most vulnerable and hungry.
Please consider helping Ukraine beyond today. By supporting their fight for freedom, you all have the potential to be No. 42.
May you all live long and prosper. Happy Holidays.
Vanguard Construction & Co.
Error validating access token: Session has expired on Sunday, 13-Aug-23 06:46:51 PDT. The current time is Sunday, 24-Sep-23 02:16:32 PDT.