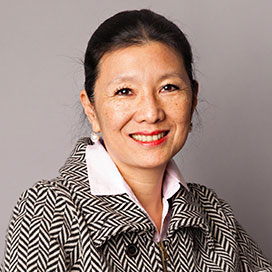 Dorothy Hom
Vice President, Creative Director
From an initial career working in Interior Design, Dorothy has successfully transitioned to a twenty-year stint in construction, contributing her insight into the design process toward building every possible project type. From hospitals to hospitality, offices to retail, and residential to institutional, she consistently delivers well-executed jobs while keeping clients informed in a personable, timely manner. Seasoned in both Project Management and Marketing, Dorothy enjoys mentoring the next generation of Vanguard professionals. She is also a former instructor of Creative Writing at Stony Brook University.
"I started off giving students specific feedback, then realized they learned best if I gave them some direction while encouraging them to do well on their own. In construction, it's necessary to intervene immediately, but I try to pull someone aside and challenge them to do better. 'Look here. What do you think? If you agree it's not level, how do you think the client would feel? Let's fix it and show them your best work.' Learning to be better is a lesson that never ends."
––– Dorothy Hom
Dorothy holds a BS in Interior Design from Cornell University and an MFA in Creative Writing and Literature from Stony Brook University. A writer who posts on Medium, she is the proud mother of two daughters and three beloved cats who remind her daily there are those who will never learn.