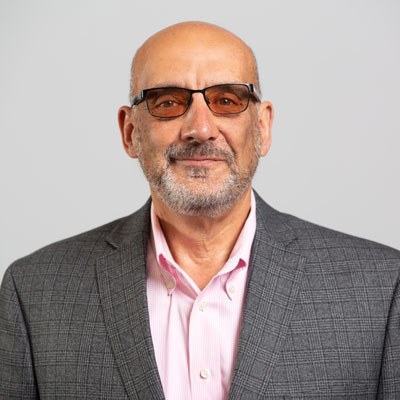 John Palino
Director of Healthcare,
Institutional and Public Work
As a former owner of a construction and millwork business, John is familiar with what challenges a job. From his deep experience, John will provide numerous solutions to resolve conflicts while anchoring the project team with his steady presence. He is a thorough, no-stone-unturned professional who leads his jobs with an attention to detail, authority, and an absolute commitment to servicing the client. John especially enjoys jobs that support good collaboration. The positivity he feels from working with others becomes even more special when those projects are public.
"I love the culture of learning and mentorship and sharing what I've learned with colleagues. The Stony Brook Hybrid OR was especially challenging. There were so many new technologies to integrate. It's always great to be part of something that serves the community."
––– John Palino
John holds a degree in electronic technology from Grumman Data Systems Institute and studied at SUNY at Farmingdale, and at the Dale Carnegie School Continued Education Program. Outside of work, John likes fishing, spending time with his twin granddaughters and family, and cruising on his Harley Davidson motorcycle. In fact, John's very first motorcycle resulted from him attaching a lawn mower engine to his childhood bicycle. Imagine what he'll build for the twins, with an extra-large sidecar for Grandpa!